The Problemo…
Abby was not able to leverage her huge social following into consistent sales. Even though she had consistent growth on her social platforms. She was stressed to the max financially worrying about month to month income and cash flow.  
She had promoted her programs on social media but didn't have the systems in place to create REAL meaningful profits.
She has a mega-successful following across multiple social media platforms primarily Youtube and Instagram.
Her challenge was leveraging her huge following into actual sales & creating a back-end business system that automated her sales.
TRANSLATION: Abby was killing it with social media but wasn't making the money to show for it.
---
" I had a few ok launches  but they weren't consistent, weren't predictable and I was only really making a couple hundred dollars here and there and that was nowhere near enough money to support me Before working with Stef I was at the end of my line, I was ready to start looking for jobs, I was grasping at straws." – Abby
---
READY TO SEE HOW WE LEVERAGED HER MEGA SOCIAL MEDIA FOLLOWING AND BUILT HER ONLINE EMPIRE?
PHASE 1 – PRE-LAUNCH

 
// STEP 1: THE "UPGRADE" PHASE
Re-branded and organized her online properties (sales pages,opt in pages, workbooks, and program material) to STAND OUT and convert. 
Created consistent branding via a customized style guide (we chose colours, fonts, icons, layouts and anything else design related to make sure all her marketing material in this launch was consistent) 

Added powerful sales copy to her sales pages 

Designed custom mock up images and design elements to her pages
Check out how you can be the BOSS of your Visual Brand here.
// STEP 2: PROGRAM CONTENT
We transferred her program content to a new membership website. This is a much more reliable (and scalable) software so she could put in less effort for more return, We used Clickfunnels*, to be able to automate her course delivery as much as possible.
All her videos, guides, workbooks were created first and then uploaded to her clickfunnels* backend.
*Clickfunnels is the landing page software we used to build all of Abbys pages for her membership website including her sales pages and her backend membership website and order forms. Members in her program have access to her content via her clickfunnels members only website. Click here to get a 14 day free clickfunnels trial.
We re-designed the what you get portion of her offer includes these 3 parts:
// STEP 3: THE FUEL
The goal was to leverage her social media following for her launch. In order to do this, we needer her followers (Youtube, Instagram and Facebook) to join her email list (as this is where ALL the membership site invitation/sales emails come from). We created a simple call to action for her to invite her followers to her email list during her posts and live videos – this way she could monetize them through the launch.
We registered Abby for Aweber as her email marketing software and immediately had her promote her opt in all over social media to build her list prior to promoting her membership website. 
---
 "As soon as I had a look into Abby's business I was shocked to see where money was falling through the cracks in her system. Where many of us have to pay for marketing she had an audience that was organically growing exponentially and just needed someone to help her harness that power." – Stephanie Joanne
---
 Her list grew by 10k subscribers by adding a content upgrade on all of her social media platforms and connecting it to Aweber.
PHASE 2: THE LAUNCH PHASE
The Details of Abby's program: A monthly membership website with a price point $47/month. She uses a monthly launch cycle to hard open and close enrollment with a new "GSD challenge" to create scarcity, urgency, and hype around her launch.
The "launch" – this is a live promotional period for Abby to SELL her TransformNation membership during a specific promotional period. Since this is a monthly offer (heck yes to recurring revenue / monthly payments), we created a monthly launch strategy to promote her program for new members.
This strategic sales launch includes timers to create urgency, a hard open and close cart to build excitement for her monthly launches, and keep the momentum building.
---
Her monthly launch cycle includes 3 parts each month….
Abby's 3 Part Monthly repeatable launch cycle
Part 1] Nurture / List Build – Attract new leads onto her email list from her social media and Facebook advertising. Offer value to her audience in form of videos and posts where she is coaching and building relationships with her subscribers. Here is where she is also creating a sense of FOMO (fear of missing out!) as she talks about her membership site and the results her members are getting … but there's no selling or offer here.
Part 2] Announce New Theme and open enrollment – since Abby is promoting her membership site each month, we created monthly "Themes" that help us create urgency each month for people who are considering entering. This theme would be announced midway through the current month to promote the upcoming months enrollment.
Part 3] Sales Week – During the final week of the month, using timers and sales emails, Abby would promote her Transformation Membership to her e-mail list as well as her social media following with mention of her current "theme" and program information. Her audience has a specific deadline of when to make a decision by – otherwise enrollment is closed and they have to wait until the next month.
When enrollment closes – her audience goes right back into Part 1 of her monthly launch cycle – list building and nurturing.
---
ABBY'S MEMBERSHIP WEBSITE PRE-LAUNCH CHECKLIST INCLUDED: 
Install a Facebook pixel on all of her pages to re-target audiences

Created an opencart sequence and sent it out to her email list and social media

Write and schedule all launch emails (into Aweber – her email marketing software) in advance so she had some peace of mind**

Figure out the times of day that have the most engagement with her list (remember this looks different for everyone

Created and scheduled a launch social campaign, including live streaming to show up from all angles to her audience.

Created YouTube content that related to her launch theme that month & drove traffic to the sales page 

Created a persuasive close cart sequence 

Redirected all traffic to the sales page over to a wait-list page to capture interest for the following launch

Wrote and scheduled a post-purchase campaign for buyers so that she was free to engage with new members 

Created a nurture campaign to warm up non-buyers for the following launch 

Then, created a launch calendar with all the phases for monthly launches so that she can copy paste the process monthly, and have consistently huge launches without her burning out like she was before.
 ** During her open cart phase we sent out daily emails (with the exception of the final day where we sent two), to sell her TransformNation membership site. This campaign was mirrored with the same messaging all over her social media* 
Abbys Live Launch e-mail schedule looked like this:
EMAIL SCHEDULE:
Day 1 – 9:30 AM*  (announce new theme and welcome new members into her program)
Day 2 – 11:00 AM*
Day 3 – 7:00 PM*
Day 4 – 4:00 PM (LIVE STREAM at 8PM EST)*
Day 5 – 7:00 PM*
Day 6 – 10:30 AM (weekend)*
Day 7 – 8:00 PM*
Day 8 – 4:00 PM (LIVE STREAM at 8PM EST)*
Day 9. 9:30 AM*- last day
Day 9.  8:00 PM* -(last call for members to enroll in her program with the current "theme" being promoted)
Here are some examples of what she posted on her social media to promote her launch during her live enrollment period…
During her launch, people were getting her emails as well as seeing her promote on social media.
The Point?  If you know or follow Abby anywhere online you cannot miss this offer while she's promoting it. We attacked from all angles and.it.worked. 
As soon as we opened enrollment as her launch emails kicked off, these messages found their way into my inbox from Abby…
THE (BIG) RESULT
HER FIRST LAUNCH CLOSEOUT NUMBERS…
ABBY'S FIRST LAUNCH FOR HER TRANSFORMNATION MEMBERSHIP SITE RESULTED IN 
 135 new sales and 178 total members!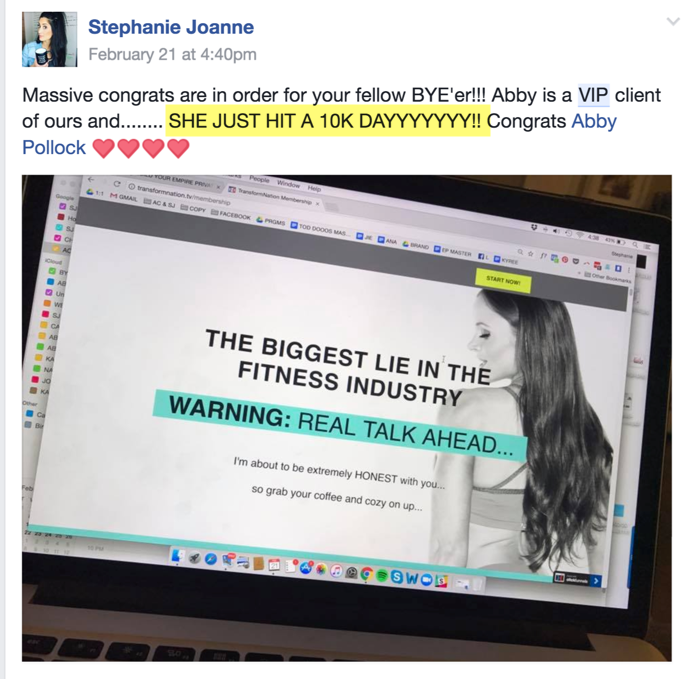 REMEMBER THIS IS A MEMBERSHIP SITE MODEL. SO IT IS RECURRING REVENUE.
THE PEOPLE WHO JOINED THIS MONTH ARE ALSO PAYING MONTHLY UNTIL THEY CANCEL THEIR SUBSCRIPTION. 

PHASE 3: POST LAUNCH 
// STEP 1: DEEP ANALYSIS
Yes, we killed it AND we did have a mini (okay megaaaa) celebration on a HUGE first launch…
But as a coach, I always want to scale, repeat and go bigger.
Since this launch is designed to happen monthly (membership revenue site model), we had to "DA" (THE DEEP ANALYSIS) the numbers quick!
This is where we analyzed the effectiveness of her various social media efforts & her post-launch numbers,  we also analyzed the effectiveness of the post-launch email sequence.
Here are the metrics we tracked to gather data to help us decide what needs to change and what to do more of moving forward with these monthly launches:
Sales page numbers- how many people landed on her sales page from social media (we set up a separate URL using pretty links plugin – which created an easier URL for her to say live on video and to help us track which traffic was coming from her email and which was coming from social)

Order form – we tracked how many people landed on her order form and purchased 

Email list growth and number of unsubscribes during her launch

Total number of : Emails on list (Aweber),  Sales Page Clicks, Purchases
We also added in a waitlist so that when people landed on her sales page outside of her open enrollment period – they would be directed to enter in their information to get notified first when enrollment opens up the next month. We had around 80 leads per day join the waitlist (then she created a bonus incentive for the people on the wait list to join at the next launch)
We used clickfunnels timers to re-direct her sales page to her waitlist page once the timer for the current month was up.
Her waitlist page looked like this..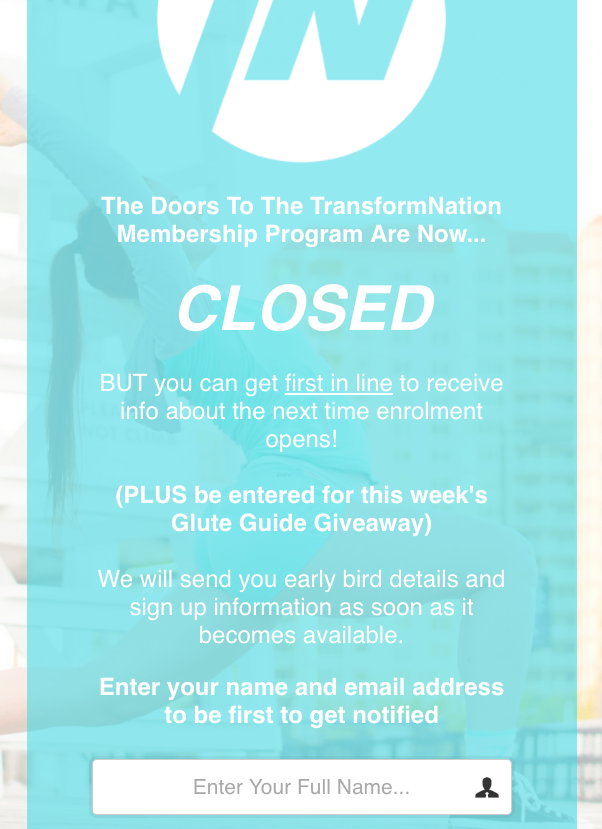 // STEP 2: THE NURTURE + WARM UP
Implement a nurture strategy for new leads to prepare them for the following month's sales sequence, warm them up, launch lead generating content, content upgrades and opt in forms to promote subscriber registration from social media.
// STEP 3: THE NEXT LEVEL RE-LAUNCH
This is where we got serious, we dabbled into Facebook ads by retargeting visitors to the sales page and sending them straight back to the sales page  to capture the people who considered. See some examples of the ads we ran below. We did this by installing her facebook pixel into the sales page and creating a retargeting campaign to only visitors to that page who DID NOT reach the checkout page.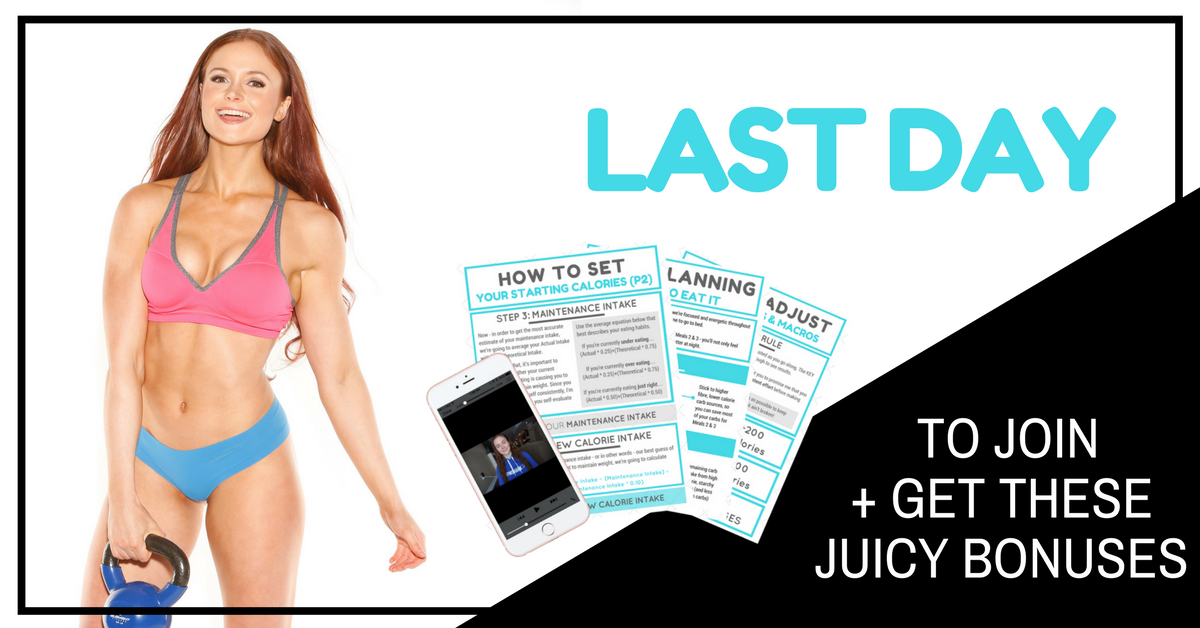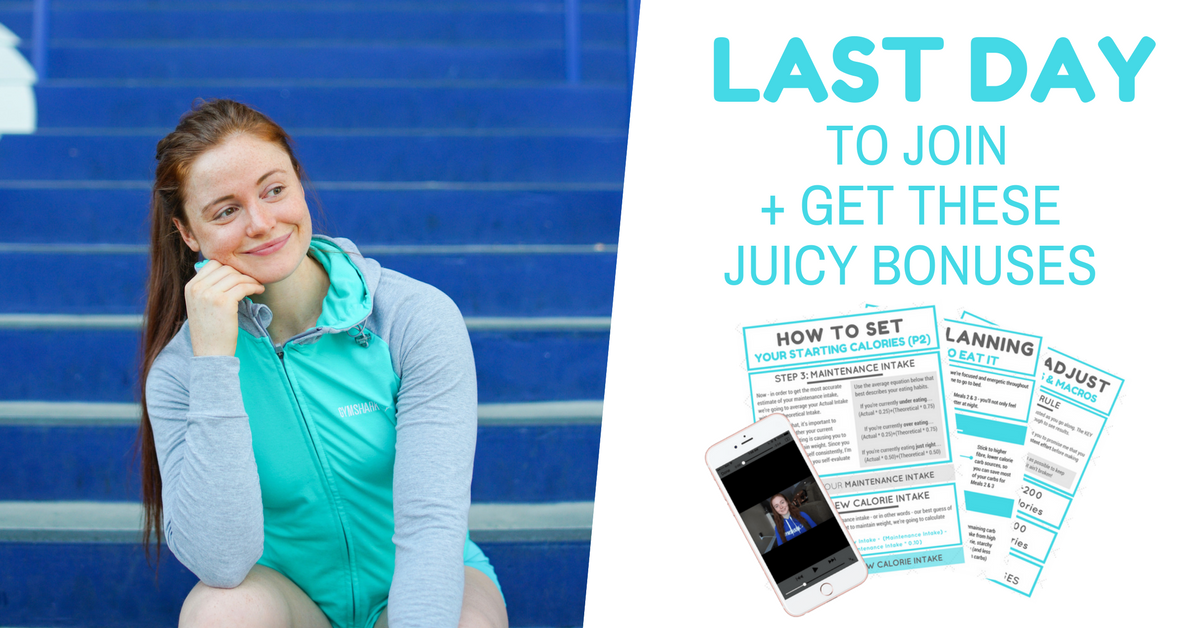 "My biggest transformation after working with Stef in the VIP program is that I no longer feel scatterbrained. I feel hyper organized, hyper focused. I feel like every hour that I am working is moving me forward and closer to reaching my goals and getting me to the next level and my revenue has gone way up! Stef gave me the step by step road map that I was needing so badly." – Abby
THE RESULT 
A summary of the magic we created together…
She launched on February 20th. 

THIS was the result: 8k launch 

THEN she knew exactly how to copy and paste that system & launched again on MARCH 22nd. 

THIS was the result: JUST OVER $40K . AND OVER 80 PEOPLE HOP IN THE WAIT LIST EVERY DAY!
I don't know about you, but I'm pretty excited to see what the numbers for her next launch will be.
Abby has a vulnerable message for you about her challenges with her business and what your next steps should be… 
"In my first launch, I did 5 figures in 24 hours. My boyfriend and I were getting out the calculators and going through it in our heads…this is real money, real quality of life, this is the sort of freedom that let's you not stress anymore, you can feel happy and celebrate your hard work." – Abby
" If you're putting in the work and don't feel like you're getting the results you deserve, SJ is the PERFECT fit for you. I made back my investment within the first month and have now 10x it within the first 90 days." – Abby